Our Internship Program
Research Pioneers
Are you a young professional who wants to build their career?
The Research Pioneers Program is a training opportunity for recently graduated youth interested in acquiring research and evaluation skills in the field of development.
Our goal is to build your research knowledge and make you love it! We help you maneuver a variety of tools and data sets that will enhance your qualitative and quantitative research skills. This includes designing innovative data collection and analysis tools that adhere to international best practices, developing research projects, and writing quality, evidence-informed reports based on factual data.
Each experience is unique, and we make sure to involve you in stimulating projects. Throughout the internship, we give you more responsibility and independence.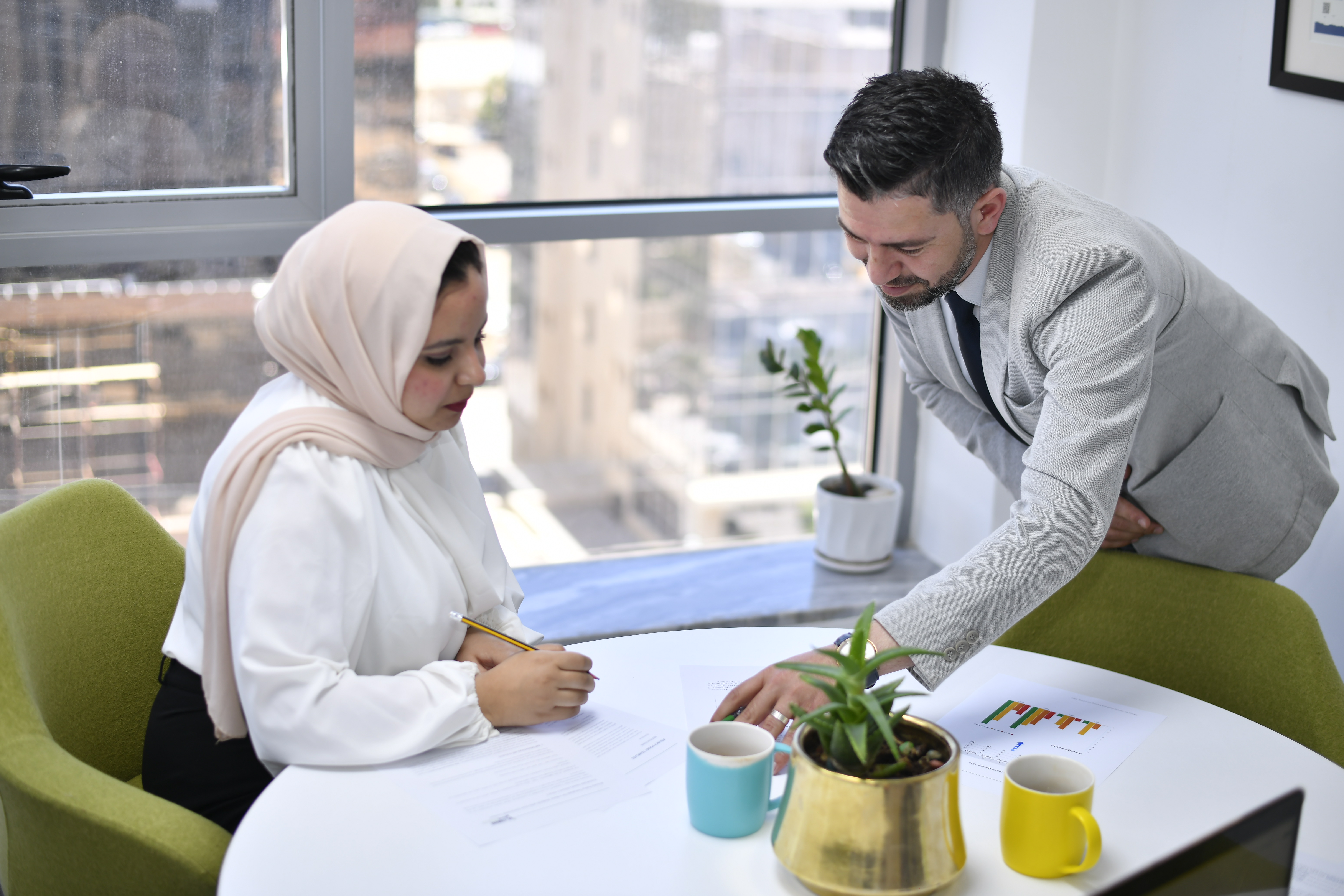 TRAINING 
We believe that the best approach to bringing out the full potential of our interns is to fully integrate them into our team by working closely with them on the same projects. Additionally, we will include you in a variety of educational opportunities and training sessions, both conducted within the organization itself and provided by external organizations. As a result, you will discover working methods and tools used every day. 
COACHING 
The learning experience is a journey that should include not only knowledge and skills but also a comprehensive understanding of best practices. During your internship, your work will be carefully considered and reviewed, and we will take the time to give you feedback for improvement to stimulate your professional growth.  
PLACEMENT 
You will work at Edmaaj's office, in person, full time, with a multicultural team. Our work environment is welcoming, and our program combines both individual learning and team participation. 
Join our team as a Research Pioneer!
We are looking for talented individuals to join our team in Amman, Jordan for a period of 6 months. Designed to bring highly qualified and motivated individuals from diverse backgrounds into our organisation, the internship will enable you to improve your analytical and technical skills, build new connections and gain insight into working in a multicultural environment.
What we offer:
The opportunity to be part of one of the fastest-growing consultancies working in development across the MENA region.

Hands-on experience in research, communication, business development, and monitoring and evaluation.

Six months unpaid internship (small stipend for transportation costs).
Requirements for Candidates:
On-going or completed master's degree in development, gender, international relations, public policy, economy, or another relevant field.

Fluent English communication skills for international applicants.

Proficient in MS Office, specifically Word, Excel, and PowerPoint.

Ability to commit full-time (40 hours/week) for a period of 6 months

Interest in the Middle East socio-political and development context.

Residing or willing to reside in Jordan

Technical writing skills (in Arabic for local applicants, in English for international applicants).

Previous experience in the field of international development (preferred)
Apply for internship